Описание
Latest version 6.1.3 – October 09, 2019 ( Changelog )

Do you want to upgrade your theme from 4.x/5.x to 6.x major version?
We are ready to assist and make switching to the new version easier for you. Contact us using ThemeForest author form or submit topic on the support forum. Be up to date and use all the new theme features!
This elegant and intuitive ecommerce theme is carefully developed and includes that set of pages, tools and settings that will help you create a professional looking and trustworthy online shop.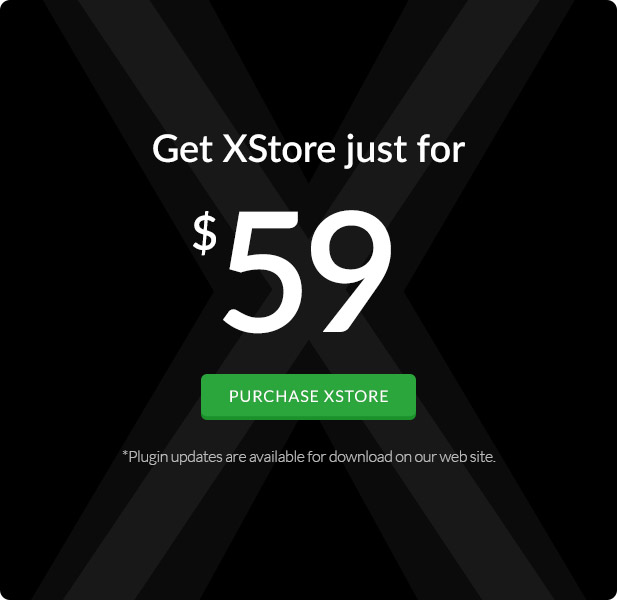 XStore makes e-commerce easy.
Also, XStore comes with several widgets that will help you improve the user's perception of your shop.The Theme Options is user-friendly and requires no special knowledge, adding value to a beautifully responsive theme.
Join our 48,000+ happy customers and start experiencing e-commerce design as it should be. Simple.
Note: We have a referral program and we are constantly monitoring where our customers find out about us and come from. If you are interested in partnering up with us, write us via the contact form.
Notes
Dear customers!
One slight request for those who encounter any issues, technical or general ones. Please, do not hurry to put a bad rating and review. In most cases, the problems could be solved in a few minutes.
So, please, be so kind to contact us at Forum or via Contact Form and our support team will find the answers to all of your questions.
Hope for your understanding.
Thank you!
Your 8theme team!
Changelog
LATEST UPDATE 6.1.3
October 02, 2019
ADDED: Button hover background, button hover color (header builder)
ADDED: Separator type for contacts element (header builder)
ADDED: Separator for elements at connection block (header builder)
ADDED: Separator type for menu & secondary menu (header builder)
ADDED: Computed box for mobile menu icon for mobile mode (header builder)
ADDED: Min charts to start AJAX searching (header builder)
ADDED: Search results sorting (header builder)
ADDED: Search results page (header builder)
ADDED: WPML config file for XStore Core plugin
IMPROVED: Sidebar position for search page (header builder)
IMPROVED: Ajax search for header builder
FIXED: Mega menu dropdown positions in menu (header builder)
FIXED: CSS for shop filter sidebar
FIXED: Portfolio page
FIXED: Newsletter mouse out type on mobile
FIXED: Scrollbar in customizer preview + increased the width of mobile screen in customizer preview
FIXED: Post + subcategories menu dropdown position
FIXED: One page menu scroll behavior (using header builder)
FIXED: Align mobile menu items with labels and drop-downs (header builder)
FIXED: Undefined variable JS error in customizer